Private Consultation Services
Have a personal one to one session with me.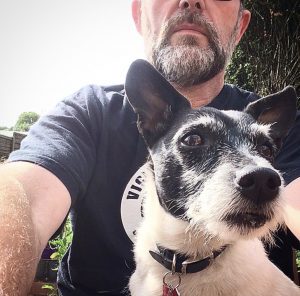 I am an Associate Clinical Educator (University of Birmingham Medical School) and have a background in sales leadership and management, writing and publishing, TV and radio presentation, film and TV acting, live comedy performance and have worked as a motion capture artist, adviser and trainer in the games industry.
I am a qualified Neuro Linguistic Programming (NLP) Trainer, Motivational Coach and Meditation teacher, having over 40 years of experience in self-development, martial arts and self-protection instruction.
Here are the following services I offer to individuals or couples
Neuro Linguistic Programming
NLP is a technology for change that combines a powerful set of tools coupled with an attitude of curiosity that will encourage clients to transform limiting self-beliefs and move out of their comfort zones.
Breaking barriers and taking chances only helps to develop a fuller, happier and infinitely more satisfying life.
The technique was developed in 1972 by John Grinder and Richard Bandler. Bob qualified as a Trainer under Richard Bandler in 2002.
Hypnosis
Hypnosis is used to alter a clients mental state allowing them to develop new more productive habits in all areas of their lives.
Will often enhance existing skills and behaviours making them more prominent in the clients life.
Often used as a powerful tool to deal with stress and anxiety. Bob is trained in Eriksonian Hypnotherapy.
Meditation & Mindfulness
Meditation and Mindfulness training helps you stay in the present moment enabling you to deal with the day to day stresses we all feel.
Helps put things in perspective and allows you to live your life in a more meaningful way.
It will also alter your attitudes to others and allow you to see habitual reactions as they occur.
If you have felt others drive your life meditation can put you back in the drivers seat!
Bob has been an active meditator for 50 years and has trained under a number of Teachers  and traditions as well as teaching his own students over the past 30 years
Anxiety, Stress, and Depression
Three of the most commonly highlighted areas that blight the human existence.
Being able to handle these any one of these three will affect everything that you do in your life.
Using a mixture of techniques Bob will fine tune the intervention to suit you.
Giving you back your life and propelling you forward to a brighter future.
Phobias
Phobias can be some of the most limiting behaviours that clients can have and Bob has seen them all.
From spiders to buttons, or flying to fences, he has worked on them all.
If you have a phobia give him 40 minutes and your fears will vanish.
In fact he will have you laughing at them!
PTSD
PTSD Post Traumatic Stress Disorder can be a serious and often life threatening behaviour.
Bob will normally spend a number of sessions working with a client to resolve these types of issues.
He has experience working with Trauma at many levels having worked for the NHS on a number of serious referrals over the years
Weight Loss or Weight Gain
Weight Loss and Weight gain are both opposite sides of the same problem and are dealt with in the same way.
Whatever you have tried before, give this a go as Bob reframes your view of your body and helps you create the type of physique you want
Smoking Cessation
Break this unhealthy and expensive habit once and for all.
Let Bob show you easily and quickly how to change the habit of a lifetime.
In one or two sessions transform you life and your health forever.
Motivation and Confidence Building
If you lack motivation and feel unsure about yourself, let Bob build your self-esteem and help you achieve your full potential in just a few sessions.
Public Speaking Training
As an actor and Performer for over 35 years Bob can help you give an entrancing performance with a sense of the dramatic.
As a comedian working on the alternative circuit in the 80's and 90's he will also be able to teach you how to add a little humour to your performance.
He also holds a BA (hons) degree in Drama And Theatre Arts form the University Of Birmingham he graduated in 1987
Changing Limiting Beliefs
Changing Limiting Beliefs: Using a canny mixture of Argument, Reframing and Modality Framing, Bob allows you to break free of dogmatic belief systems that may be holding you back.
Sometimes replacing them with presuppositions, Bob will show you how to break these chains and liberate yourself.
Remember: "Whether you think you can, or you think you can't, you're right."
. …and that's not always a good thing!
Improved Communication Skills
Communication skills are at the heart of all human interaction.
Bob runs a small team of professional Role-players who can help you develop those all important skills that can make or break any relationship.
"The meaning Of Communication is the response you get" make yours elegant and persuasive.
If you need more motivation and more confidence in everything you do, a session with Bob will not only have you ready but will have you understanding your purpose.
That's what will drive you to succeed.
Purpose is the engine that allows you to achieve those goals, whatever they might be.
Persuasion Programming (Sales and Leadership Training)
Having Trained Leadership and sales techniques to Bluechip companies up and down the UK Bob is in a perfect position to help you be more productive and learn the simple tools of Persuasion.
He has worked for BT, Homeserve, Rant&Rave, Virgin, Surfacemedic, British Rail, MOD etc
Enhancing Sports Performance
Any sportsman will tell you that over 90% of the game is a mental exercise. How you feel affects your performance.
Using tried and tested methods with the FA, The Ryder Cup and Combat Athletes, Bob has developed a way of working that will take your game to the next level. No matter what the sport.
Personal Self -Protection
With over 40 years experience of training individuals and groups from Soldiers to Doorman, Bodyguards to Armed Response teams and University Students.
This no-nonsense simple system will have you feeling more comfortable around issues like street violence.
He runs regular seminars for groups as well as 1-2-1 training sessions.
Pete Gorman
Bob helps you let things go. More specifically helps you to let shit go! 
Bob brings together his training in neuro-linguistic programming,  clinical knowledge, pragmatic Buddhist ideology and a large spoonful of personal experience to help those of us that are carrying around unnecessary baggage to lighten the load.
Bob clearly has insight and personal experience in this area.
After all 'an expert is someone who has made all the mistakes there are to make in a very narrow field', Neil's Bohr.
Tom M
Your usual irreverent mix of NLP and stories has worked really well. Particularly after the third session today. 
Personally, I feel like I've gained a lot in terms of broadening my map, and becoming aware of my own habitual responses.
Next week, I'd be interested in discussing the 'purpose' level of the neurological levels model, I think for me that one is still a bit elusive. Cheers!
Augustina G
Brilliant set of interesting and interactive sessions lead by Bob.
He gives you the tools to better understand yourself and people you interact with.
What a lot of us need to do is to change our perception on things and Bob helps guide you through that.
Great fun and thoroughly recommend!
Kay V Damme
Sunday's session with Bob was engaging and interesting, introducing the many attendants to useful communication techniques and NLP.
As a very visual person, this NLP stuff works for me personally, and it has helped me before during periods where other approaches had failed.
Every person is different, but if you're open to using some creative ways of letting shit go, it's worth a try!
What do you have to lose (except for your shit)?
Stuart c w
Bob teaches powerful strategies to take back control of your life.
Mindset is key to everything in life and the unique approach Bob applies will change the lives of many through facilitating understanding of how we can control it all.
Bob has great passion for the subject and his energy whilst teaching is inspiring.
Robert Spour
All of my services are delivered through Zoom or Skype in full confidentiality.
Contact me below to find out more about how I can help you, or to book an appointment.
I charge £60 ($80) fee for a minimum 1 hour session.
If you are not satisfied with your session then I will refund your fee.
Get In Touch
Please use the form below to contact me with your inquiry about my services.